Business Developer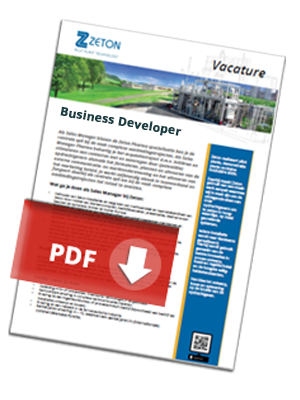 To accelerate the growth of Zeton, we are looking for a business developer. As a business developer your main task is identifying, developing and converting leads into opportunities in the chemical and process industry and to motivate new clients to team up with Zeton.

You know perfectly well how to generate business and you are capable of developing your own plan to realize the defined goals. You generate new business in new markets. You have a lot of freedom in your daily work.
Profile:
You are a self-starter, and are result-driven.
You have a proactive attitude, can identify and create opportunities.
You have a customer-driven mindset and are a born networker.
Your knowledge of new developments in the chemical and process industry is up-to-date.
You have an excellent awareness of innovation in the chemical and process industry and you see abundant opportunities in the market.
Your (professional) seniority and your excellent communication skills bring you quickly in contact with people of influence and the appropriate decision-makers. A knowledge of process technology is a great advantage. 
As a Business Developer at Zeton, you have:
A professional or academic education and experience (technical business administration, chemical engineering) combined with an extensive professional network and good business development experience.
Multiple years of experience in an independent position in the field of sales and/or business developer is required. 
A strong affinity and affiliation with the R&D environment.
You have excellent communication and management skills and you understand the product and process such that you can provide technical explanations if necessary. 
Good command of the English language (spoken and written) is required, and it is a great advantage to have a good knowledge of the German language. 
You are always looking to expand your professional network, to develop business in new markets that are relevant to Zeton. You play an active role in working groups that can influence trends in the world of chemical and process technology.

Zeton's customers are located all over the world, with an emphasis on Europe. From the well-known multinationals to the start-ups.
Zeton offers:
A challenging and stimulating position with attractive financial compensation (with interesting profit sharing) in a positive working environment with a good team of enthusiastic colleagues.
A job with a lot of freedom, variety and responsibility.
Deel deze vacature: